Ah, what a question! If you've landed here, you've considered homeschooling to some extent and I'm so glad you've popped by. Today I'm sharing with you the story of my dear friend, Tiffany. By God's kindness I ran into her at a Chick Fil A during our first winter living in the Midwest. I could pick her southern accent out from across the restaurant - I felt a sense of kindred spirits almost immediately. Today she is a dear and treasured friend, who feels more like family. Her daily pursuit of Christ is a constant encouragement to me. She shares how, as a former teacher, she learned to embrace the idea of homeschooling as the Lord led - and let go of the pressures a lot of us often ask ourselves. I think you will be encouraged!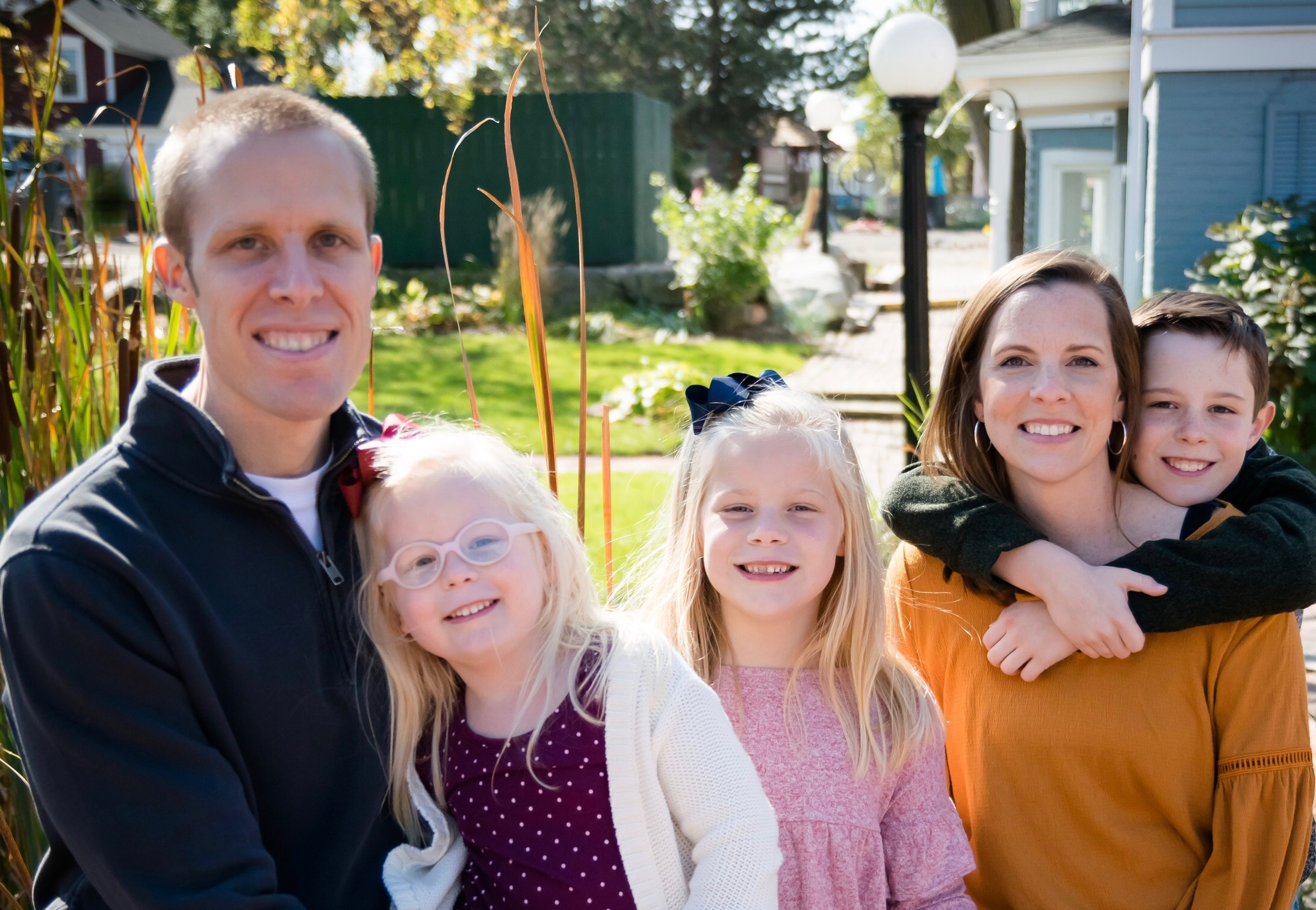 and I have a hybrid home! Seriously, when Lily first messaged me with the name and inspiration behind this lovely space I thought, 'Nailed it!' It's me. It's most of the mamas I know trying to live this life well.
My husband and I have been married for almost 14 years and we have three kids. Once upon a time, I was a teacher. I taught 1st and 3rd grades in a public school stateside and on a military base overseas. My husband and I both attended public schools growing up and believed we could educate and disciple our children by allowing them to do the same. If I'm being totally honest, we felt like parochial schools and homeschooling sheltered children too much and we'd have to be in a really bad school system to entertain either idea. Oh boy! "Many are the plans in the mind of man, but it is the purpose of the Lord that will stand." Proverbs 19:21
Fast forward a few years and we started the journey of public school with our children. My son attended a preschool, then our public half-day kindergarten, and then first grade. I loved it, he loved it—we were feeling great in our schooling decision. Second grade was…different. There were red flags with his attitude, behavior, spiritual growth, peers, teacher, and academic performance. He would come home almost every afternoon and have a complete meltdown. He was a hot mess and it made me sad and miserable. Looking back now I can say that I was losing his heart! There just wasn't enough time after school and activities to nurture and train him. We were all struggling—it was definitely affecting our entire family.
The worst part was I felt stuck. How could I carve out more time with him when we had made the decision to send him to public school? It was all or nothing right? I was NOT like my wonderful, creative, super-smart friend with endless patience who homeschooled her boys while going for hikes in the sun and snow!
Of course, the Lord was orchestrating His perfect plan. A couple of years earlier I met Lily at Chick-Fil-A. We were both Southern girls living in the Midwest and we both had three small kids. Oh, and we look a little bit like sisters. She homeschooled and I didn't. We exchanged numbers that day and now she is a dear friend.
Half way through my son's second grade year when my concerns were really coming to the surface, we had a playdate with Lily and her crew. I shared my heart and she challenged me to continue to pray and listen to that still small voice. She said if you don't have peace about registering your kids for full-time public school next year, don't do it yet. We talked about the option of homeschooling and she made me realize that there was not one specific way to do it. I didn't have to be all in or all out.
I mean, folks, that's pretty basic advice, right? However, I was completely blinded to other possibilities; partly because of my fears, but also because I just didn't think it was possible to overcome all of the hurdles. How would I know where to start without the school curriculum I'd been given when I taught? How would my extroverted son be able to interact with peers on a regular basis if he wasn't in school? Would our school dissuade me? What would we do if it was a total flop and he needed go back to school? Even if we made it a full year homeschooling, how would be able to ease back in without any trouble? Would this be too disruptive for him and for our family?
For every thought and fear, I was sure that God was affirming the decision to homeschool my son, but not my daughter. I felt a peace about sending her for the half-day kindergarten program in our district. My youngest was just turning three and not in school yet. My husband, who had not previously wanted to entertain the idea of homeschooling, was completely on board. Our principal encouraged me to do it and said the school would support us if my son still wanted to come for some classes. We also joined a co-op with friends, when we were initially told it was full and we needed to look elsewhere.
So how did it go? What was it like for the former school teacher and mama who was used to sending her kids to school to be thrust into the world of homeschooling? Well, it was overwhelming and also the absolute best thing. I chose to obey the Lord's calling and He showed up daily in big and small ways. More of Jesus! That is what we needed—that is what we received! I read 2 Corinthians 12:9 with an all new appreciation, "My grace is all you need. My power works best in weakness."
At times we butted heads and struggled because I had to be mom and teacher. Once or twice, I may have said, "I have a master's degree in education." The hard façade that built up over the previous year melted away. Multiple friends and his even Sunday School teacher commented that they noticed him softening. My son, who had commented the previous year that he wasn't sure God was real, said that he wished his school friends could go to his co-op so they could learn that God was in everything.
We spent a year really slowing down and focusing on the things that interested him. Plenty of lazy mornings at home in our pajamas. We read a lot. We snuggled on the couch and got lost in Farmer Boy and Om-Kas-Toe. He mastered the US map and presidents, as well his multiplication tables. His little sister was still around and demanding requiring attention—but he got way more one-on-one time than he'd received since his younger siblings were born. His love tank was full.
I love the promise in Deuteronomy 7:9, "Understand, therefore, that the Lord your God is indeed God. He is the faithful God who keeps his covenant for a thousand generations and lavishes his unfailing love on those who love him and obey his commands." Perhaps one of the most beautiful things to come out of last year is the peace in my heart that God is indeed a promise keeper. His love for my children is far greater and more perfect than my own. We pray with and for them, teach them about God's amazing love in sending Jesus, and teach them about the reality and pain of sin. We stand in the gap and pray with hope that they will have hearts for Jesus. Spending more time with my son gave me more time to see the work God was doing. I do not have to fear every act of disobedience! I'm parenting their hearts, not their actions. Proverbs 4:23, "Guard you heart above all else, for it determines the course of your life." Oh, and my son still sinned plenty even in a homeschool "bubble."
He is now back at school in 4th grade and doing great. He no longer has meltdowns after school! His teacher emailed me recently and said that he is making excellent choices at school, both academically and socially. We have little heart-to-hearts several nights a week while he is snuggled in bed. Sometimes it's just a chat about video games, but other times we have talked about things kids have said and done at school that he didn't agree with or understand. By God's grace, I am able to listen and talk and pray with him without a paralyzing fear of our culture or his future.
Another beautiful thing to come from last year is the opportunity to encourage other moms within our public school community and empower them to do what is best for their kids as well. I have had several phone conversations and coffee chats. For one friend that has meant pulling her son out as well to homeschool him in 3rd grade. For another friend that has meant speaking up and being a stronger advocate for her daughter within the school system.
Hebrews 11:1 says, "Faith shows the reality of what we hope for; it is the evidence of things we cannot see." I do not know what the future holds for our kids' education, but I am more confident than ever before that as my husband and I lean into Him, God will lead us and give us the means to get through each year. We will pray each year leading up to registration time and follow God's call for the next year.
I struggle with that first step of faith. I'd rather not even try than fail! Oh, but friends, I choke on tears as I think about God's goodness to my family in the last year. My prayer for you is peace in the decisions you're making for your children's education and courage to step out on faith if God is calling you to something new.